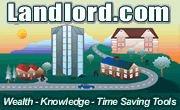 State Civil Courts & Frequently Referenced Landlord-Tenant Laws
For All 50 States & DC
© 2011 Landlord.com
This chart is an attempt to gather, in one convenient place, the information you will need to refer to the basic landlord tenant laws of your state in preparation for disputes with your tenant or landlord, and to navigate your state's civil court system, should a resort to it be necessary, self-help resources, if provided by the state courts and Small Claims Court descriptions and links for all 50 states. You will find in it the following resources.
Statutes: These are the statutes of your state that we have found bear most directly on the profession of landlording or being a tenant. They are the ones that you will most often, in our view, need to review on day to day questions, such as how much time you have to refund a moving tenant's security deposit, who is responsible to foot the bill for repairs to damage done to the rental premises, or what you can do if rent is not paid on time.
Trial Courts: Not all courts are equal. That does not mean some are more important than others. It means that they all have different functions. The courts you will almost always have direct contact with are the trial courts. Trial courts are those that hear cases by listening to witnesses and the contentions of the parties and make decisions based on the information they receive and the manner in which the law bears on it. The trial courts' work is divided according to how large the stakes in the dispute they must hear are. At the lowest level are the small claims or justice courts, and at the highest are the courts that can hear disputes of unlimited magnitude. We provide a portal to your state's court structure so you can determine where your claim belongs. You will also find how to contact the court in your area that can hear your claim so you can obtain information on how, where, and when to make your filing. We do not include highly specialized courts, such as those dealing with juvenile offenders, divorce courts, tax courts, and the like, as these do not bear directly on landlord-tenant disputes.
Court Self Help Resources: We have found 47 states that provide substantial on line assistance to persons who want to make a claim on their own, without attorney assistance. These self help centers run from the elaborate, with provisions for electronic filing of complaints and other pleadings with detailed instructions, to the very simple, but one thing you can be sure of is that, because they are run or commissioned by the courts themselves, you will not be given any bum steers.
Small Claims Materials: Small claims court is the court you will most likely and most often have contact with. We have given them a separate column for this reason. In this column you will find court provided or sponsored information on how to file your claim if you are making one, or how to present your defense if you are being sued, how the system in your locality works, and a lot of the other details you will need to know to make your day in court as stress free as possible.
State Courts and Laws

State

Statutes

Trial Courts

Court Self Help Resources

Small Claims Materials

Alabama

Alabama Code

Alalinc: Compilation of self help resources on line

Alaska

Alaska Statutes

Forms, Instructions, and Publications sorted by subject

Arizona

Arizona Rev. Stats

Superior, Justice of the Peace, Municipal Courts, and Small Claims Courts

AzTurboCourt: efiling and information

Arkansas

Arkansas Code

Circuit, District, City, and Small Claims Courts

Court Forms: On line official forms for a variety of proceedings, many with instructions

California

California Civil Code §1940 and foll., Code of Civil Procedure §1159 and foll.

Colorado

Colorado Rev. Stats.

38-12-101 and foll., 38-12-301 and foll., 38-12-501 and foll., 13-40-101 and foll.

Connecticut

Conn. Stats. §476a-1 and foll.

Delaware

Delaware Code Title

Superior Court, Court of Chancery, Court of Common Pleas, Justice of the Peace Court

How to File and Defend a Summary Possession Action in Justice of the Peace Court

District of Columbia

DC Code

Title 42, Chapter 32 through chapter 36A

Representing Yourself: Guides to handling simple matters yourself

Florida

Florida Statutes

Georgia

Georgia Code

Superior Court, State Court, Magistrate Court, Municipal Court

Hawaii

Hawaii Rev. Stats.

Idaho

Idaho Code

Illinois

735 Ill. Com. Stat. Article IX §5/9-201 and foll.

765 Ill. Comp. Stat. §705/0.01 and foll.

Indiana

Indiana Code

Superior Court, Circuit Court, City and Town Court, County Court, Small Claims Court of Marion County

Iowa

Iowa Code

Kansas

Kansas Statutes

Kentucky

Kentucky Rev. Stats.

Louisiana

Louisiana Rev. Stats.

Louisiana Civ. Code

District Court, Justice of the Peace Court, City and Parish Courts

None

Baton Rouge City Court Small Claims Division informational site

Maine

Maine Rev. Stats. Title 14

Maryland

Maryland Code

Massachusetts

Mass. Gen. Laws, ch. 186, §1 and foll.

Superior Court Department, District Court Department and Small Claims, Boston Municipal Court Department, Housing Court Department

Michigan

Mich. Comp. Laws

Circuit Court, District Court, Municipal Court

Minnesota

Minnesota Statutes

Mississippi

Mississippi Code

Circuit Courts, Chancery Courts, County Courts, Justice Courts

None

Missouri

Missouri Rev. Stats.

Montana

Montana Code

District Court; Justice's Court, City Court, Municipal Court

Nebraska

Neb. Rev. Stats.

Nevada

Nev. Rev. Stats

Clark County Small Claims Court site giving information on Small Claims procedure generally

New Hampshire

NH Statutes

Small Claims Court, from NH Department of Justice

New Jersey

NJ Stats. Ann.

New Mexico

New Mexico Statutes

District Court, Magistrate Court, Bernalillo County Metropolitan Court

New York

N.Y. Real Prop. Law RPP §220 and foll., Real Prop. Actions RPA Articles 7 & 7A, Multiple Dwelling Law MDW, Multiple Residence Law MRE; Gen. Obligations Law GOB §7-101 and foll.

Supreme Court, County Court, District Court, City Court, Civil Court of the City of New York, Town and Village Justice Courts, Civil Court of the City of New York Housing Part

North Carolina

NC Gen. Stats

North Dakota

ND Century Code

Ohio

Ohio Rev. Code

None

Oklahoma

Okl. Statutes Title 41

None

Oregon

Oregon Rev. Stats.

Pennsylvania

Penn. Cons. Stats.

Court of Common Pleas, Philadelphia Municipal Court, Magisterial District Judge

Rhode Island

RI General Laws

South Carolina

SC Code

Charleston County Magistrates Court, general information for Small Claims Courts

South Dakota

SD Codified Laws

Unified Judicial System – General Public: A site covering several procedures and trial courts

Tennessee

Tenn. Code

§66-28-101and foll.

Texas

Texas Property Code

Title 8, Chapters 91 and 92

District Courts, Constitutional County Courts, County Courts at Law, Municipal Courts, Justice Courts

Utah

Utah Code

Vermont

Vermont Statutes Title 9 Chapter 137

Pro Se Education Program – [mandatory]

Virginia

Virginia Code

Washington

Washington Rev. Code, Title 59

West Virginia

W Virginia Code

Wisconsin

Wisconsin Statutes §704.01 and foll.

Wisconsin Administrative Code §134.01 and foll.

Wyoming

Wyoming Statutes
This is a reference guide; state laws are ever-changing. Always consult legal professionals when warranted.